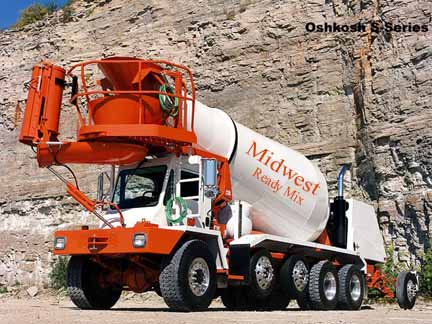 Our company was established in 2002 and remains the only locally owned and operated ready mix company in the area. Our trademark is the 6x6 front dishcharge mixer trucks which allows for better placement of concrete and ease of use due to their design. We have added some newer 6 axle trucks with a new drum design which can place concrete low slump concrete much better than our old ones. They also have a new surge fin which allows high slump concrete placement at a steady pace thus allowing the best of both worlds when placing low or high slump material.
Con-e-co Low Pro Batch Plant
¨ 3 aggregate bins with over 120 ton of storage
¨ 80 ton cement storage
¨ 40 ton fly ash storage
¨ capacity of over 100 yards per hour
¨ fully automated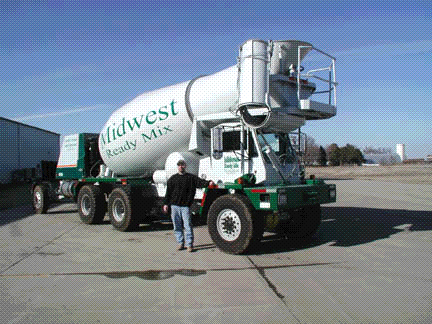 Our Oshkosh front discharge mixer trucks have many advantages over rear discharge mixers:
¨ 6 wheel drive
¨ front discharge allows the driver to see what's going
¨ eliminates the need for a chute man and someone to direct the driver
¨ driver can control the chute
¨ higher discharge allows placement of stiffer concrete
¨ 22' of chute with 180 degree swing
¨ 32' bridgespan tag axle
¨ automatic transmission
¨ 2 speed transfer case for super slow maneuvering
¨ water meters for exact onsite mixing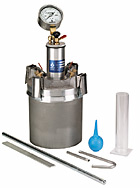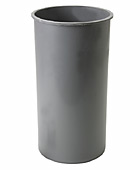 We offer our customers the highest quality ready mix concrete, concrete products and aggregate along with the service that is expected. Dave Hertz is a certified ACI Concrete Field Testing Technician who can test air content, cast cylinders, check density, specific gravity, and many other tests. We can customize mix designs to fit your company needs.
¨ Custom Mix Design
¨ Job Cost Reports
¨ After Hours and Weekend Delivery
¨ Front Discharge Mixer Trucks for easier Placement
¨ High Volume Plant
¨ On Board Water Meter
¨ Concrete Pumpers (Boom Truck & Pull )
¨ Rental Equipment, Rebar, Expansion and Other Concrete Accessories
¨ Knowledgeable Staff